Plastic Trash in Mangrove Forests
An ongoing study by Melinda Paduani, a PhD fellow with the NSF CREST Center for Aquatic Chemistry and Environment, has revealed massive amounts of trash trapped in coastal mangrove forests along central-southern Biscayne Bay. Of all the trash, over 97% is plastic. Surveys along a gradient from the Bay's edge to the inner forest show that, overall, more debris accumulates on the ground far into the forest than at the coastline.These findings have implications for the recirculation of trash throughout the Bay and within mangrove-lined estuaries in general.
"As plastic debris gets stuck within forests for indefinite periods of time, mangroves might be serving as long-term net sinks of plastic," said Paduani.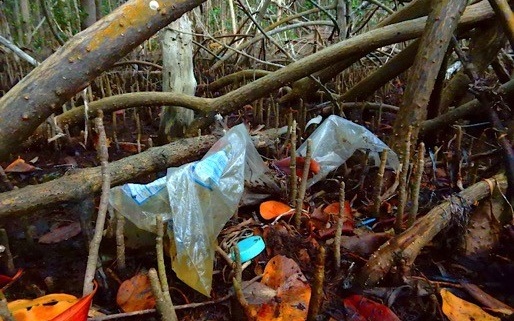 The reason for the spatial variation in debris distribution is still under investigation. Paduani's research team is studying the relationships between mangrove vegetation structure, water levels and currents and polymer types/sizes on the overall retention of debris. Her group also noted that some debris has been found buried deep within the soil profile.
Mangrove forests only cover about 0.1% of Earth's land surface, yet they are known for their large contribution of ecosystem services: for storm surge buffering, nursery grounds to commercially important aquatic species, global carbon storage and many more. However, the accumulation of non-biodegradable plastics in mangrove forests raises concerns about the impacts that debris may have on biodiversity, and these effects are largely unstudied.
There is much research still needed on plastic in mangrove forests and intertidal wetlands, but the finding that plastics may be retained in soil for long periods and therefore taken out of global recirculation may represent yet another ecosystem service provided by mangroves.
The NSF CREST Center for Aquatic Chemistry and Environment is housed within the Institute of Environment, a Preeminent Program at Florida International University.